REVALID HAIR COMPLEX WITH IMPROVED FORMULA TO NOURISH HAIR AND NAILS FROM WITHIN
If hair loss has been diagnosed by a specialist, a course of nutrition in the form of capsules can support the body's natural process to ease symptoms and promote healthy hair from the inside out. The improved Revalid Hair Complex formula consists of vitamins B1, B6, D3, minerals like zinc, copper, iron and herbal extracts as well as contains biotin which contributes to the maintenance of normal hair. Developed in Switzerland, the active ingredients in Revalid Hair Complex stimulate the formation of keratin, a fibrous protein that forms a key biological building block for our hair. This promotes hair growth and restores elasticity as the hair is supplied with essentials nutrients from the inside.
WHY IS KERATIN SO IMPORTANT?
Keratin constitutes up to 90% of each individual hair, making it essential for hair formation and growth. This fibrous protein also enables the hair to withstand both high and low temperatures and protects it from the sun's rays. Keratin contains a high percentage of the amino acids – cysteine and methionine – making them essential for healthy hair too.

DL-Methionine and L-Cystine are classified as amino acids and play a role in the production of keratin. Vitamin B5, B1, B6 and B10 all contribute to the growth of the hair from the root up, while minerals iron, zinc, and copper are included to strengthen your hair. Millet extract, wheat germ extract, and barm yeast provide the necessary nourishment for natural moisture and shine.
Do not exceed the indicated daily dose. Food supplement must not be used as a substitute for a varied and balanced diet and a healthy lifestyle.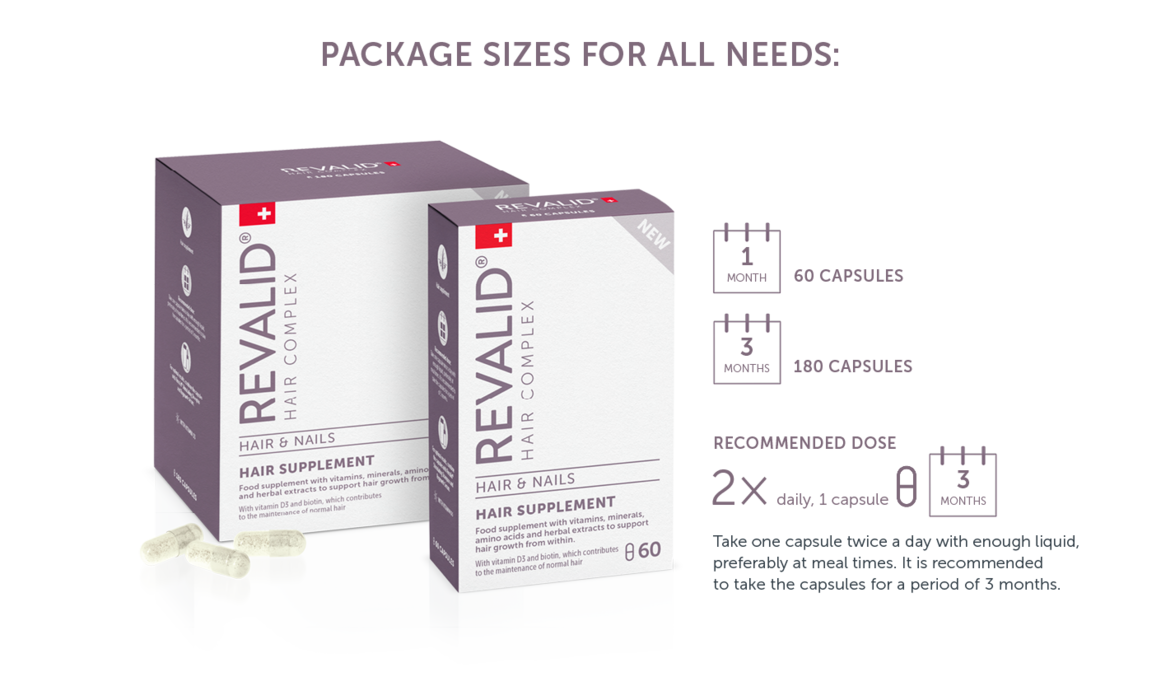 For more informaton about Revalid Hair Complex, please contact your pharmacist and/or please check information on the product packaging you bought.
Our integrated approach to hair problems is based on the combination of Revalid Hair Complex (Food Supplement) with complementary hair care products. If you look for optimal results, combine the Revalid Hair Complex capsules with Revalid Stimulating Shampoo and Revalid Regrowth Serum.